SMD Marine Electronics Opening Launch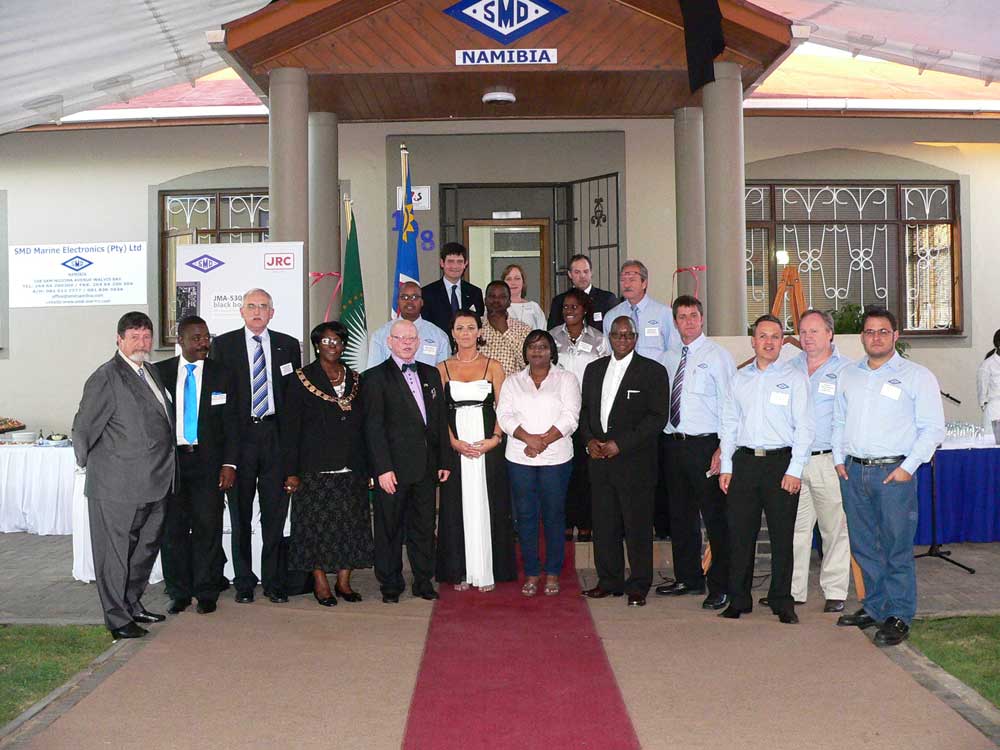 A new company, SMD Marine Electronics Namibia (Pty) Ltd, officially opened their office, situated in 198 Sam Nujoma Avenue in Walvis Bay on Friday.
SMD Marine Electronics officially opened their doors on 9 April 2013 Marking the start of their 24-7-365 Quality marine services in Namibia. The launch was reported by Namib Times Namibia as well as being featured in GlobalPost News and NBC Namibia.
The company, whose motto is "24-7-365", covers a wide range of products end services and offers Quality Marine Services, Africa South of Sahara, JRC First Aid Kit Locatio, Thrane OSC, Consilium Fire & Gas, Extensive Spares Holding, Factory Trained Staff, GM-DSS, AIS, EPIRB, SSAS, VDR, inspections, electronic navigation, communication, safety and hydrography. Mr Arend de Boer, CEO of SMD South Africa and Namibia, said that SMD originally started in Pinetown in South Africa before branching out from Durban to Cape Town.

Namib Times - Official Article - GlobalPost Article
SMD Namibia is a division of Spain's 'Grupo Arbulu', which is a leader in marine technology dedicated to enhancing the safety of lives at sea by providing marine electronic sales and services. Speaking during the launching ceremony, Deputy Minister of Fisheries and Marine Resources, Chief Samuel Ankama indicated that the opening of the new company is a welcome development as it not only contributes to the growth of Namibia's service sector, but also entails the introduction of a new, innovative and required service.
He went on to say the company will have a positive impact on safety at sea in general, as well as on shipping and marine operations and the local productive industries that make use of shipping services.
If SMD Marine Electronics Namibia's '24/7 - 365' quality service to the shipping and marine sector is in turn translated by the shipping sector, we can only expect a positive multiplier effect in the production and supply chain.
... We would like to see this company not only serving the local market, but also to export its services to other shores of Africa and beyond using our country as the launching base. This will add to our export basket and help earn foreign currency for our country.

Chief Samuel Ankama
He also indicated that the broad range of SMD Marine Electronics Namibia's services such as electronic navigation equipment for deep sea, coastal, commercial fishing, leisure boating and fishing, offshore and land-based operations will have a positive effect on many sectors in the country. The deputy minister further stated that Government and the whole of Namibia, including the private sector, has a shared vision of turning Namibia into an industrialised and prosperous nation by the year 2030.